- Purpose of MOU includes joint research, exchange of technology information and personnel
- Aims to accelerate AI-based 'Digital Transformation' via academia-industry collaboration
Doosan Group announced on May 28 that it has signed a memorandum of understanding (MOU) with Yonsei University for joint research and academic exchange in artificial intelligence (AI) technologies.
The signing ceremony was held at Yonsei University on May 27, and the attendees included Hyunsoon Lee, vice chairman and chief technology officer of Doosan Group, and Yong-Hak Kim, president of Yonsei University.
By signing the MOU, Doosan Group and Yonsei University will work toward the common goal of developing AI technology applicable to manufacturing industries through 1) joint research and technology information exchange, 2) exchange of research personnel, and 3) collaboration on industry advisory services and education.
Since last year, Doosan and Yonsei University have been carrying out industry-academia research projects and academic training programs on the AI-based prognostics health management (PHM) of construction machines. Under the MOU, they look to collaborate on a broader scope of AI technology applications.
In July, Doosan and Yonsei University plan to host the "Doosan Data Challenge," an AI competition for Doosan employees. Starting from next year, the company will open the competition to the general public in an effort to better utilize AI technology within the Group and find hidden AI talents.
As part of its Digital Transformation efforts that are being carried out across the organization, Doosan has partnered with universities, including Yonsei University, Seoul National University and Hanyang University, and IT firms, such as Microsoft and SAS, to carry out multiple projects. In 2017, the company established a training program to nurture AI experts within the Group, and makes efforts to incorporate AI technology in its business processes.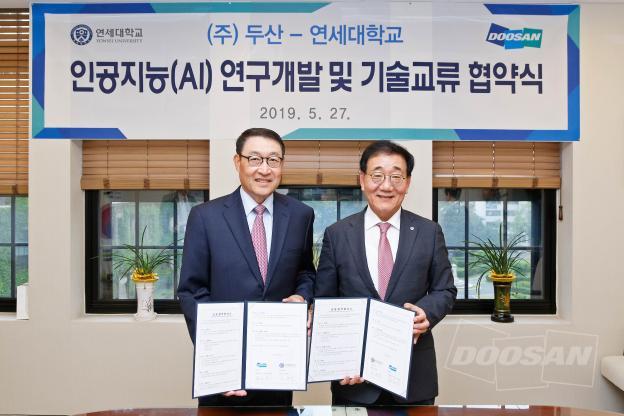 Hyunsoon Lee, vice chairman of Doosan Group, and Yong-Hak Kim, president of Yonsei University, pose for a photo after signing an MOU for joint research and technology exchange of AI at Yonsei University's Underwood Hall in Seodaemun-gu, Seoul, on May 27.