- Attends Bauma China in Shanghai; stresses 'digital transformation' to deliver differentiation, upgrade of business
- Pays special attention to China as part of 'local operations' efforts; annual sales target for excavators achieved ahead of schedule
On Nov. 29, Doosan Group Chairman Jeongwon Park attended Bauma China, one of the largest construction machine exhibitions in Asia, held in Shanghai, China, where he stressed that "high quality should be a given, and it is time for us to embrace digital transformation to compete in the Chinese market."
Chairman Park took a tour of the exhibition to keep up with latest trends of the construction machine industry and assess the Chinese market. He was accompanied by a management team that included Hyunsoon Lee, vice chairman and CTO of Doosan Group, Hyunsoo Dong, vice chairman of Doosan Corporation, and Dong-youn Sohn, president and CEO of Doosan Infracore.
As digital transformation has always been a top priority in the advent of the fourth industrial revolution, Chairman Park closely examined the latest digital, and information and communications (I&C) technologies exhibited by other industrial players.
During the event, Doosan Infracore showcased its 5G remote control technology for the first time. Through the images being transmitted on to monitors, Chairman Park test-operated an excavator located in the Incheon Plant in South Korea remotely from the 5G remote control station installed at the Shanghai exhibition venue.
The 5G remote control technology—featuring high-speed, ultra-low latency and big data transfers—is a state-of-the-art technology that enables the remote operation of unmanned construction machines. Many companies have showcased such technology at close range before, but this was the world's first cross-national demonstration of the remote control technology. The demonstration drew a lot of attention from the first day of the exhibition and was carried out flawlessly throughout the event. At first, the demonstration was scheduled to be held just twice a day, but it was held nonstop throughout each day at the request of dealers and visitors.
Doosan Infracore has expanded the DoosanCONNECT™ telematics service to China, Europe and North America. The telematics service uses the state-of-the-art I&C technology to remotely monitor construction equipment such as excavators, wheel-loaders, articulated dump trucks and more. In its continued effort to obtain state-of-the-art digital technologies, the company has signed an agreement to invest in PoteNit, a Korean start-up specializing in autonomous driving systems, in April, to advance its unmanned, autonomous technology.
"In the conventional manufacturing sector, a great deal of differentiation can be achieved through digital transformation," said Chairman Park. "We must further upgrade our advanced technologies and continuously carry out digital transformation to take ourselves to another level and create new revenue sources."
Since taking office as Group chairman in 2016, Chairman Park has paid special attention to the Chinese market as he continues his push to enhance local operations. As the Group chairman, the first country he visited on an overseas trip was China, at a time when the Group's business was suffering considerably there.
As a result, Doosan has been enjoying significant revenue growth in China—up from 600 billion won ($540 million) in 2015 to 1.4 trillion won in 2017—driven by the earnings growth of Doosan Corporation and Doosan Infracore.
Doosan Infracore sold a total of 10,851 excavators in the Chinese market in 2017, more than a twofold increase in sales compared to the previous year. This year, the company surpassed the previous year's record in just eight months and this year's sales target ahead of schedule. As a result, aggregate sales in the Chinese construction equipment market grew by 62.2 percent year-on-year in the third quarter of 2018 at 1.613 trillion won. Doosan Infracore's market share in the Chinese excavator market also increased from 6.7 percent in 2015 to 8.5 percent as of October this year.
With the improved performance in the Chinese market, Doosan has recorded 13.2836 trillion won in aggregate sales and 1.0503 trillion won in operating profit, up by 7.2 percent and 16.2 percent year-on-year, respectively, as of the third quarter of this year. The company has been enjoying continued growth momentum by posting more than 1 trillion won (1.1799 trillion won) in operating profit for the first time in four years last year, and again breaking the 1 trillion won mark in just three quarters this year.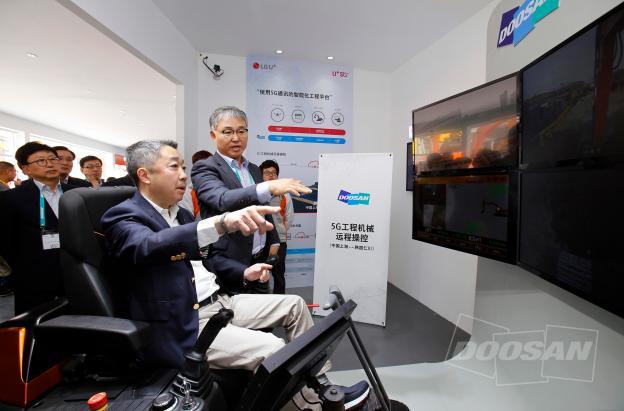 On Nov. 29, Doosan Group Chairman Jeongwon Park remotely operates an excavator located in the Incheon Plant using the 5G remote control technology from the Doosan Infracore booth installed at Bauma China, an international trade fair for construction machinery held in Shanghai.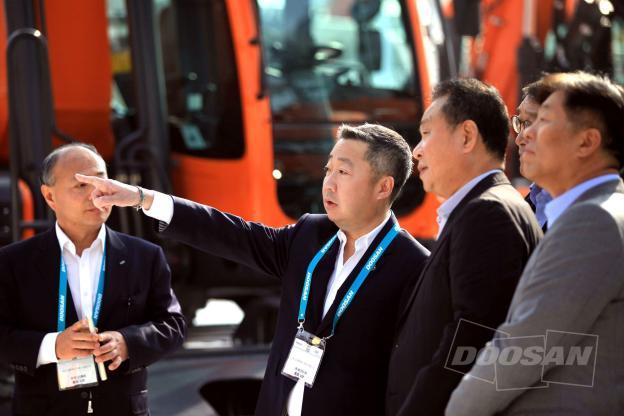 On Nov. 29, Doosan Group Chairman Jeongwon Park (second from left) looks around the outdoor exhibition of Doosan Infracore's latest construction equipment at Bauma China, an international trade fair of construction equipment, held in Shanghai, China.