Doosan announced on Sept. 6 that it has officially entered the unmanned aerial vehicle (UAV) fuel cell market in its search for a new growth engine. Doosan revealed its UAV fuel cell power pack, which was independently developed in-house, for the first time at InterDrone 2018 held from Sept. 5 to 7 in Las Vegas, U.S.A.
Doosan established Doosan Mobility Innovation (DMI) in 2016 to lead the company's unmanned aerial vehicle (UAV) fuel cell business, and successfully developed a fuel cell power pack for drones with its own technology. A fuel cell power pack consists of a stack of fuel cells that generates electricity through an electrochemical reaction of hydrogen with oxygen.
The removable hydrogen fuel tank is designed to be easily replaced and offers more than two hours of flight time on a single charge, compared to drones powered by the previous battery technology, which could fly for only 20 to 30 minutes. Currently, industrial drone makers are competing against one another to develop long-range autonomous drone technology, and long-lasting battery power is a must to realize long-range flights.
InterDrone is one of the three largest commercial drone trade shows in the U.S., and more than 130 companies participated in this year's exhibition. In a 140-square-meter area, the largest booth size allocated in the venue, the DMI exhibition featured four sections: 1) a presentation on the features and strengths of the products and a video of aerial shots, 2) a demonstration of remotely-controlled drones, 3) an exhibition of fuel cell-powered products, and 4) a demonstration of fuel replacement and a customer experience of e-commerce mobile apps for product purchases. The exhibition was attended by Hyunsoo Dong, vice chairman of Doosan Corporation, and other Doosan officials.
"We are currently constructing solutions to provide various services, including supply, charging and delivery of hydrogen fuel, a mobile application for ease of flight and IoT-based total services that enable a user to collect and sync flight information," said Doosoon Lee, vice president and CEO of DMI. "As we aspire to become a leader in the UAV fuel cell market, we will do our best to differentiate our services based on our proprietary fuel cell technology."
After conducting a pilot project and demonstration test at home and abroad, Doosan plans to launch the mass production of UAV fuel cell power packs within the first half of 2019, and seek partnerships with other domestic and foreign firms in the drone industry.
Industrial drones have a wide spectrum of industrial applications—e.g., the management of solar stations and wind turbines, the monitoring of forest pest insects and disease and wildfires, the long-haul delivery of emergency goods and inspections of road traffic and ports in areas such as infrastructure management, public service demand, and the construction and agricultural sectors—and the market is expected to reach about 7 trillion won ($6.3 billion) by 2025. The market is expected to take off when demand soars in the logistics sector of the United States and China.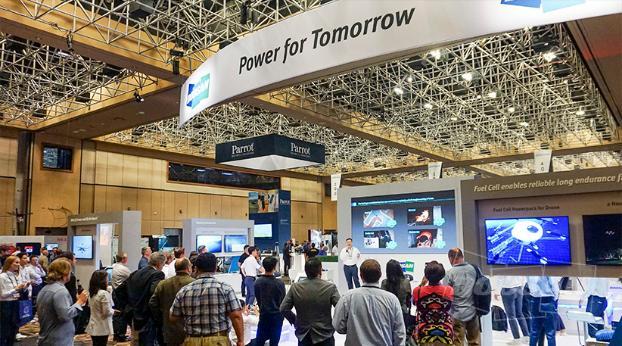 ▲ Doosoon Lee, vice president and CEO of Doosan Mobility Innovation, gives a presentation in front of visitors at the DMI booth.



▲ The fuel cell power pack for drones, which was developed in-house by DMI, offers more than two hours of flight time on a single charge.