On March 7, 2018 Doosan Infracore announced that it had introduced the prototype of its cutting-edge electronic model of the DX12 power generation engine for the first time in the Middle East at the Middle East Electricity Exhibition (MEE) 2018 held at the Dubai World Trade Center in Dubai, UAE from March 3-6, 2018. The electronic model of the DX12 is an eco-friendly high-capacity engine equipped with new technologies such as the common rail system, an electronic system that supplies and sprays diesel fuel at high pressure, and the selective catalytic reduction (SCR)* which blocks leakages of toxic waste from the engine. At the MEE2018, Doosan Infracore exhibited its full lineup of six power generation engines including five recently-developed electronic models of the DX12, the compact D24 and D34 engines, and the mid- to large-sized DX22 and DL08 engines, as well as its GE08 gas engine. In addition, Doosan Infracore also showed off its world-highest-level eco-friendly technologies at the exhibition by showcasing its own aftertreatment components (devices for reducing toxic waste) which meet the world's strictest emission standards. Vice-president Joonho Yoo, head of the Engine BG of Doosan Infracore, said, "At the MEE 2018, we introduced the full lineup of our power generation engines, ranging from high-quality mechanical engines to cutting-edge electronic engines," adding, "We will focus our resources on expanding our customer base not just in the Middle East but also in advanced markets such as Europe and North America with a variety of product groups customized for those regions." The MEE is the largest power expo in the Middle East. Last year's event is said to have attracted more than 63,000 visitors to the exhibition booths of 1,615 companies from 66 countries. Doosan Infracore has participated in the MEE for the fifth consecutive year since its first showing at the MEE in 2014, with the aim of promoting its power generation engines and new technologies while strengthening its partnership with dealers and OEM businesses. * SCR (Selective Catalytic Reduction): An environmental system that transforms the nitrogen oxide generated during the combustion of fossil fuels into nontoxic materials prior to their emission.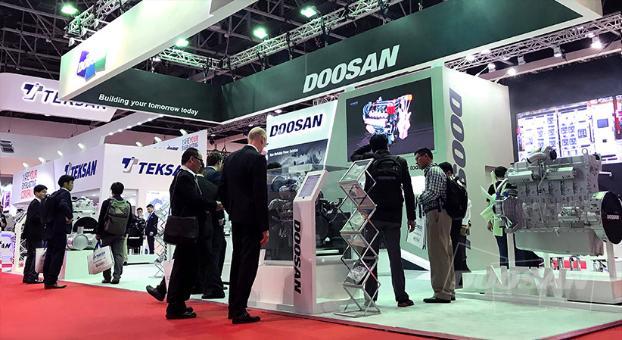 Visitors to the Doosan Infracore's booth at the MEE 2018 looking at the company's cutting-edge power generation engines.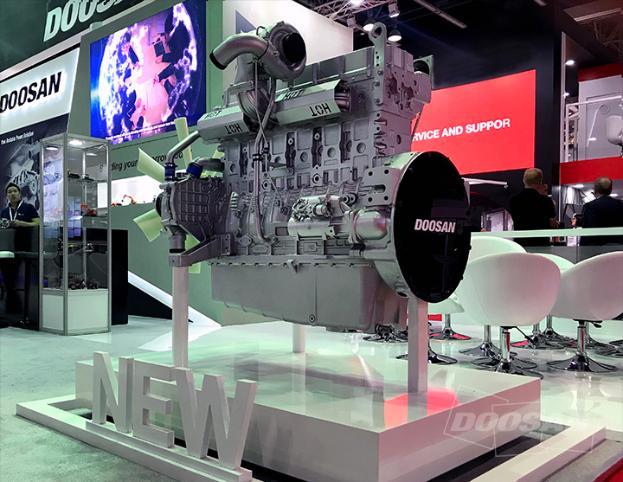 Doosan Infracore released the electronic model of its DX12 engine at the MEE 2018 held in Dubai, UAE for three days starting from March 6, 2018.