- Following Doosan Corp., other affiliates contribute equipment for snow removal and weeding as part of 'Tea of Love' campaign
On Jan. 30, Doosan Engineering & Construction (Doosan E&C) donated a Doosan Bobcat ® compact track loader (CTL) along with four attachments to the Republic of Korea Army's (ROKA) 22nd Infantry Division (Yulgok Division) in Goseong, Gangwon Province. Next month, Doosan Infracore will donate another piece of Doosan Bobcat® construction equipment and attachments to the ROKA's 7th Infantry Division (Seven Stars Division) in Hwacheon, Gangwon Province. In 2016, Doosan Corporation donated a Doosan Bobcat® CTL to the ROKA's 21st Infantry Division (Mount Baekdu Division) in Yang-gu, Gangwon Province. Doosan's donations of construction equipment to front-line units originated from Doosan's "Tea of Love" campaign. As part of the "Tea of Love" event held in December 2016, Doosan Group Chairman Jeongwon Park visited the Mount Baekdu division and donated a Doosan Bobcat® CTL along with attachments to support the soldiers on the front line facing difficulties with heavy snowfalls during winter. "After having seen the Doosan Bobcat® CTL used on the front line not only for snow removal in winter, but for weeding in danger zones, other Doosan affiliates decided to join the efforts for the other front-line divisions in a sisterhood relationship," said a Doosan official. As a sign of appreciation to the members of the military, Doosan has hosted the "Tea of Love" campaign since 1991. Doosan affiliates have been supporting military units in a sisterhood relationship by donating coffee and tea, supporting the building of libraries on military bases and providing books.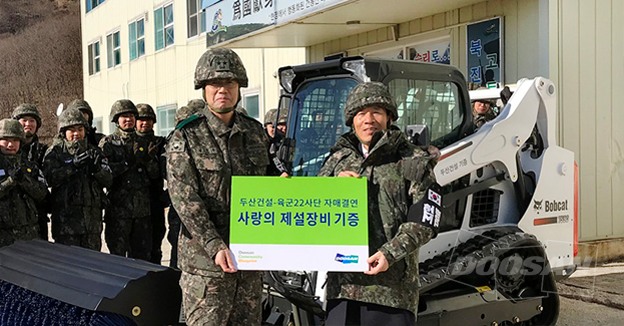 Doosan E&C CEO Byung Hwa Lee (right) poses for a commemorative photo with Jungsoo Kim (left), the Yulgok Division commander, after donating a Doosan Bobcat CTL and attachments on Jan. 30 in Goseong, Gangwon Province, Korea.