On April 23, Doosan Group (Chairman Jeongwon Park) celebrated the Doosan Day of Community Service, the day when Doosan employees all over the world join together to help their local communities.
The Doosan Day of Community Service is one of the Group's major corporate community involvement (CCI) activities. Doosan employees from around the world, including the Americas, Europe and the Middle East, assess local needs and offer a helping hand to their communities.
Established in 2014, the seventh event held this year engaged more than 6,000 employees from 19 countries in various volunteer programs. So far, about 59,000 employees have taken part in the volunteer program.
Doosan Group Chairman Jeongwon Park also joined Doosan employees to participate in the "Heartwarming Furniture Story" program held in Jung-gu, Seoul. Together, they crafted 200 pieces of handmade furniture, including storage cabinets and bookshelves, and delivered them to 100 families living in the local community.
In Korea, employees were also involved in various other volunteer activities to help preserve cultural heritages, offer cultural activities to children enrolled in child care centers, and they volunteered at welfare facilities and more. Employees at overseas business sites, including in the Americas and Europe, repaired public facilities, cleaned up the environment, helped the homeless and supported educational institutions in their local communities. As an official partner of Major League Baseball (MLB) for the third year, the U.S. affiliates provided game tickets to children with heart problems living in local communities.
"The Doosan Day of Community Service is a meaningful event as Doosan People worldwide join together to serve their communities," said Chairman Park. "I ask you to stay committed to helping our neighbors as a responsible member of the local community."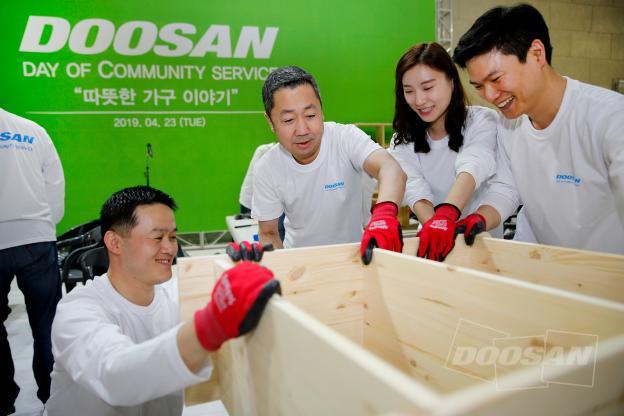 Doosan Group Chairman Jeongwon Park (middle) works with employees to craft homemade furniture for families living in the local community.