- Doosan Group Vice Chairman Geewon Park, senior executives aim to take in latest technology trends, seek out new business opportunities
- Focus placed on integrated automation technology, digital factory, energy convergence
Doosan Group is making great strides in securing future technologies and identifying new growth engines. To that end, Doosan announced on April 4 that Doosan Group Vice Chairman Geewon Park and a management team are visiting Hannover Messe 2019, held in Hannover, Germany.
Hannover Messe, established in 1947, is the world's leading industrial trade fair held in Germany, a manufacturing powerhouse. This year, the trade show features about 6,500 exhibitors from 75 countries under the theme of "Integrated Industry – Industrial Intelligence" from April 1 to 5.
"Industrial Intelligence," which means the digital networking of humans and machines in the age of artificial intelligence (AI), is a topic that is also intricately related to Doosan's new collaborative robotics business and the Digital Transformation efforts that are being made throughout the Group.
Group Vice Chairman Geewon Park and the affiliates' senior officials—including Hyunsoo Dong, vice chairman of Doosan Corporation's Business Division, and Scott Park, president and CEO of Doosan Bobcat—examined the exhibitions of other leading companies to take in the latest technology trends and seek out new business opportunities.
The officials spent more time on the exhibition booths that were related to Doosan's businesses—such as those held under the themes of "Integrated Automation," "Digital Factory" or "Integrated Energy"—to understand current market conditions.
The Doosan delegates showed the most interest in and shared their thoughts with other industry insiders about: 1) the next stage of automation technology in the era of human-machine collaboration, 2) Industry 4.0-related software and platforms, and 3) technology convergence and the integration of AI, virtual reality (VR) and the cloud. They also looked around the exhibitions of other relevant technologies such as robotics technologies, hydrogen-based energy technologies and more to stay on top of the latest trends.
"The trade show offered insight into the direction of Doosan's ongoing innovation process," said Vice Chairman Geewon Park. "We should test the applicability of the new technologies in our units right away, and move swiftly in the potential areas."
Meanwhile, Vice Chairman Geewon Park and a management team plan to hold a workshop near the event venue to have an in-depth discussion about future technology trends. They will invite experts to gain insights into Germany's energy future and how German companies are preparing in response. Afterward, they will review Doosan's current strategies for fuel cells, wind power and other power and energy technologies, in comparison. They will also exchange ideas about the importance of "Collaboration" in the "Connected World."
Doosan's top executives have taken frequent tours to attend the Consumer Electronics Show (CES) in the U.S., Bauma in China and other international manufacturing and industrial trade shows where they can see innovative trends of manufacturing sites at a glance, in an effort to find a breakthrough and identify new business opportunities leading up to Industry 4.0.
Since first setting its foot in the fuel cell market, which has garnered attention as the future of clean energy, in 2014, Doosan has been growing its presence in the market, reaching 1 trillion won (about $875 million) in annual orders last year. Based on the accumulated fuel cell technology, it has successfully developed fuel cell power packs for drones and plans to officially release them in markets inside and outside Korea by the end of this year. Furthermore, the company has launched the mass production of collaborative robots, which are developed in-house, and plans to complete the construction of an electrodeposited copper foil facility in Hungary, as part of its efforts to fuel these growth engines.
In the existing business sector, the company is accelerating the digital transformation process of merging its manufacturing capacity and IT technology. Last year, Doosan Heavy Industries & Construction started to provide combustion optimization solutions to coal-fired power plants operated by Sasan Power in India. In September last year, Doosan Infracore unveiled its Excavator 3D Machine Guidance System, which collects precision working data using sensors installed on an excavator and feeds the information to the operator, contributing greatly to increasing efficiency and safety.
Based on the new technologies and business results, Doosan looks to participate in next year's CES held in the U.S. The company plans to set up its own exhibition booth to promote the new businesses, including fuel cell power packs for drones and collaborative robots, and incorporate its new digital-based technologies into its existing businesses of construction machines and power plants.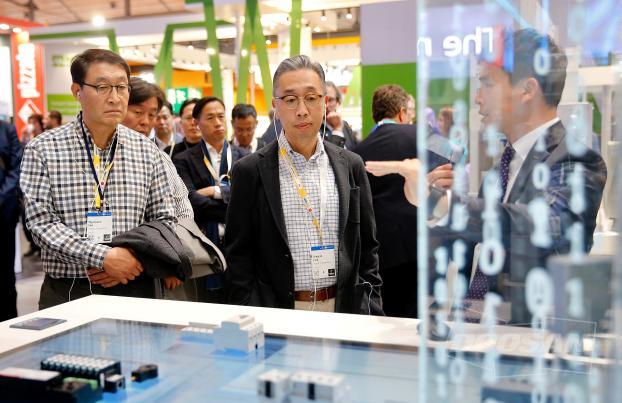 Doosan Group Vice Chairman Geewon Park (second from left) listens to an explanation about Internet of Things (IoT) solutions for power plants at the Siemens (German-based) exhibition booth during his visit to Hannover Messe 2019.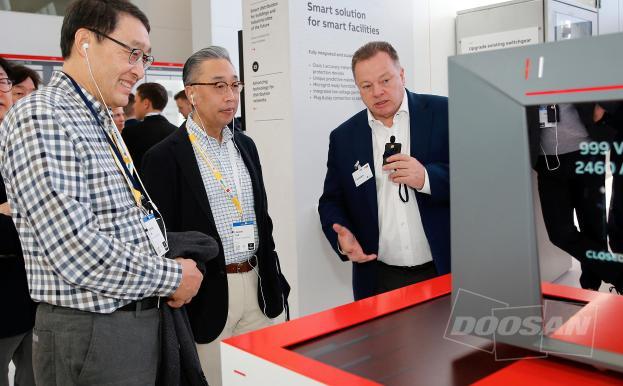 Doosan Group Vice Chairman Geewon Park (second from left) listens to an explanation about renewable energy equipment revealed for the first time by ABB, a Switzerland-based engineering company, during his visit to Hannover Messe 2019.