- Enhancing customer outreach by leveraging partnerships with MLB, New York Yankees
- Global sports marketing portfolio includes sponsorship of The Open, a European soccer club
Doosan announced on March 28 that the company's partnership with North America's Major League Baseball (MLB) is to be extended into a third year with the opening of the 2019 season on Thursday (local time in the U.S.).
Doosan's involvement with the American professional baseball league as an integral part of its marketing strategy began when the company became the presenting sponsor of the American League Division Series (ALDS) in 2017. Last year, the company also signed multi-year partnerships with MLB and the New York Yankees, which will extend through the end of the 2020 season.
Starting with the opening of the regular season and throughout the postseason, Doosan's brand will be exposed on multiple MLB-owned media platforms. First, MLB Network, a cable TV channel; MLB.com, a digital platform that also presents the official websites of 30 baseball clubs, and social media will be used to show ads, banners and the brand logo. The company also plans to host customer invitational events at Yankee Stadium in New York as part of its customer outreach efforts both offline and online, leveraging the benefits of its partnership status.
Doosan has sponsored various international sports events to actively promote its brand around the world. Since 2010, Doosan has been an official patron of The Open, the oldest golf tournament in the world and one of the four major championships in men's professional golf. In Europe, the home of soccer, the company has supported FC Viktoria Plzen, the most prestigious football club in the Czech League that has won five championships in the Czech First League, since 2009.
"Our sports marketing activities in the past few years have proved to be highly effective in building our brand value," said a Doosan official. "Through the partnerships with MLB and the New York Yankees, we strive to strengthen our presence in the North American market."
Doosan Group's affiliates based in North America include Doosan Bobcat, Doosan Infracore, Doosan Industrial Vehicle, Doosan Fuel Cell, Doosan GridTech and Doosan Turbo Machinery Services (DTS) in the areas of construction equipment, logistics equipment, and energy. Together, they account for $3 billion in annual revenue.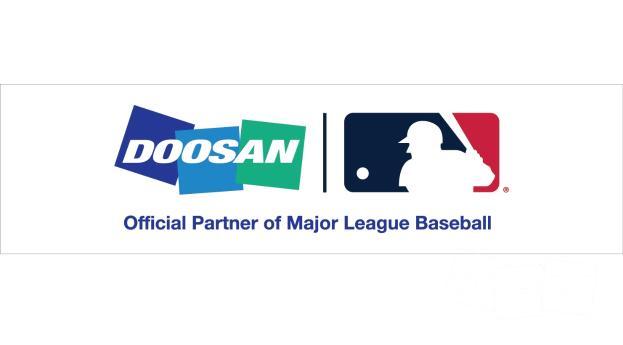 The Doosan-MLB combined logo. Doosan's partnership with MLB started with the American League Division Series (ALDS) in 2017.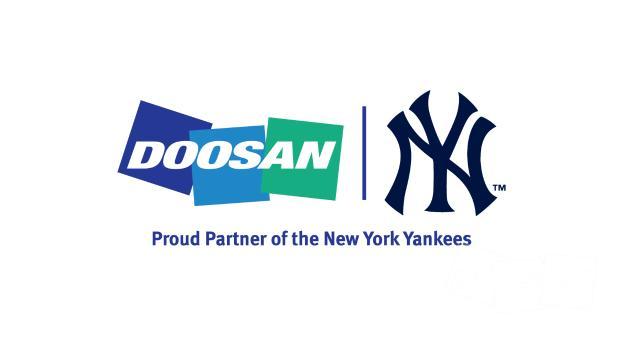 The Doosan-New York Yankees combined logo. Doosan became an official partner of the New York Yankees last year.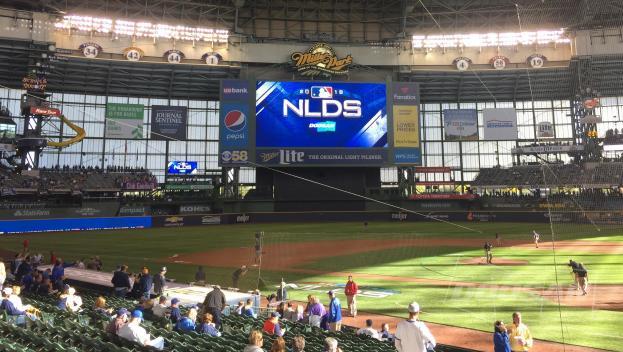 Doosan's logo exposure on the LED video board during a National League Division Series (NLDS) game last year.