- Doosan Corporation's two forklift trucks, Doosan Bobcat compact excavator win the awards
- Doosan's design excellence recognized with the world's top three design awards—iF, Red Dot and IDEA—since 2016
Doosan announced on March 14 that it has been awarded three 2019 International Forum Design Awards (iF Design Awards) for two of Doosan Corporation's forklift models—GC25S-9 and BR18S-9—and the Bobcat® E85 compact excavator. All of the award-winning models were designed by Doosan Infracore.
The iF Design Award is regarded as one of the three most prestigious design competitions in the world, along with Red Dot in Germany and the International Design Excellence Awards (IDEA) in the United States. This year, the winners were selected out of over 6,400 entries from 52 countries, throughout seven disciplines.
Doosan's forklift trucks and compact excavator were awarded in the "Automobiles / Vehicles" category under the "Product" discipline.
Doosan Corporation's forklift models, including the GC25S-9 engine forklift truck and BR18S-9 electric forklift truck, share a coherent "family look" with all of the Doosan Infracore construction machines, creating a cohesive brand identity. Most distinctively, their ergonomic design focuses on the safety and comfort of the operator. Last year, the BR18S-9 model also received the Best of the Best Award, the highest honor, at the Pin Up Design Awards, organized by the Korea Association of Industrial Designers.
The Bobcat® E85 compact excavator received kudos for expressing the brand's unique identity in an innovative way. Last year, the E85 became the first construction machine to receive an IDEA award.
In 2009, the Doosan Infracore design team that led the product design received the highest honor at the Red Dot Awards for a concept excavator (CX). By receiving the iF Award this year, following a Red Dot Award (Excavator DX Series, fingertip controller) in 2016 and an IDEA Award (Bobcat® E85 compact excavator) in 2018, Doosan has been honored with the world's top three design awards in recent years, proving the outstanding design quality of its products.
"Our designs have received high marks for the aligned design motifs of simplicity, balance and coherence that offer both convenience and aesthetics from the customers' perspective," said a Doosan official. "With a growing importance placed on perceived quality in the area of construction and industrial vehicles, we will further our commitment to delivering design excellence into the future."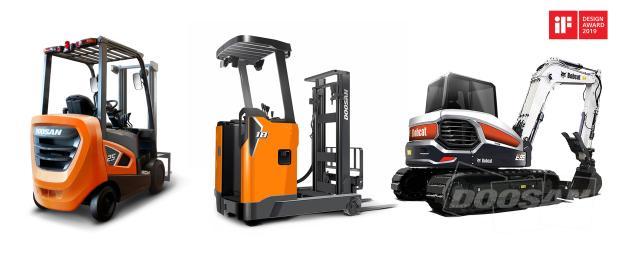 The three Doosan forklift and excavator models that received accolades at the 2019 iF Design Awards. From left to right: Doosan Corporation's forklift trucks—GC25S-9 and BR18S-9, and the Bobcat® E85 compact excavator.