- Doosan Infracore's third PDC to improve demand response capability in Europe significantly
- Improved support for major local customers to increase the company's European market competitiveness remarkably
On 30 August 2018, Doosan Infracore announced it had opened an engine Parts Distribution Center in Halle, near Leipzig, Germany to provide the engine parts to the entire European market. The European engine PDC that has opened its doors for the third time in the world following the ones in Korea and the USA handles more than 4,600 engine parts in the facility built on a 1,000 square meter plot. Doosan Infracore is planning to increase the company's competitiveness in the European market by applying sophisticated operation know-how and advanced system of its European construction machinery PDC located in the same region to operation of the new engine PDC. Through its sharply improved capability to meet the demand for engine parts in Europe, Doosan Infracore can now shorten its response period from seven days to two days, on average, for its customers' or dealers' urgent orders. The delivery interval of regular orders has also been shortened significantly, from once a month to once a week. Doosan Infracore has its major customers in Europe, including KION, a German forklift manufacturer, and Doosan Bobcat. In addition, given the fact that the demand for its industrial, marine and generator engines is on the rise in European market, Doosan Infracore is planning to continue to expand the scale and supply capacity of its European engine PDC. "With the establishment of the engine PDC in Europe, we expect to be able to supply our engine parts efficiently within a far shorter period of time and consequently to further improve our customer satisfaction," said Vice-President Joonho Yoo, head of Doosan Infracore's Engine BG. "We will spare no effort to enhance our global competitiveness by harnessing momentum to expand and enhance our global parts and service network for the engine business," he added.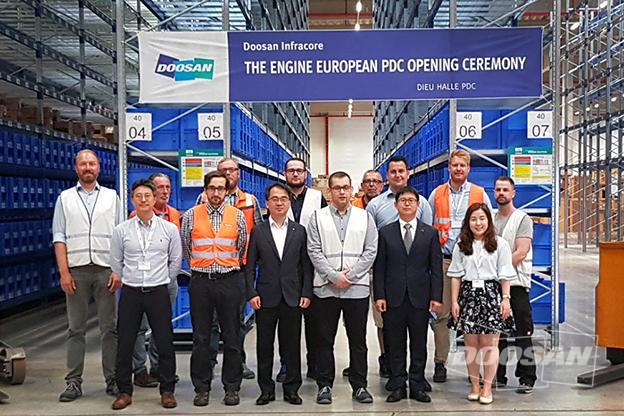 Doosan Infracore announcing on 30 August 2018 it had set up its Europe Engine PDC in Halle, Germany and already embarked on its full operation.