- DoosanCONNECT™, in addition to wheel loaders and engines draws keen interest from local companies
- Enhancing sales channels in Russian construction machinery market boasting 50% annual growth rate
On July 13, Doosan Infracore announced it had participated in INNOPROM 2018,' Russia's largest industrial trade show held in Yekaterinburg from 9 to 12 July, introducing its wheel loaders, engines and advanced technologies to help expand its market share in Russia. Construction machinery market in Russia boasts over 50% growth rate year on year selling 6,000 units annually, while Doosan Infracore has 10% share in the market. Doosan Infracore exhibited SD300 wheel loaders, the company's flagship item accounting for more than half of its total wheel loader sold in Russia. Other products exhibited by the company included DL08 engine, which is used for heavy equipment, ships, commercial vehicles and generators, aiming to expand its engine business in Russia. DL08 model is sold over the world widely including Russia. Doosan Infracore also introduced 'DoosanCONNECT™', a solution service using advanced telematics technology, at an independent space. "The visitors showed keen interest in DoosanCONNECT™, which enables equipment monitoring from a distance, because construction worksites in Russia are usually huge or far from the dealers' business locations." said an official from Doosan Infracore. "A number of celebrities who visited Doosan's booth during the show, including Russian Deputy Prime Minister Dmitry Kozak, showed their great interest in Doosan's products and technologies," he added. "Local media also introduced the Doosan Infracore's products followed by an increasing number of product inquiries from potential customers. The show was an opportunity for the company to enhance its position in the Russian market." Doosan Infracore's managing director Chung Gwan-hee in charge of Emerging Market Sales introduced DoosanCONNECT™ in 'Korea-Russia Industrial Cooperation Forum,' an accompanying event of the trade show, as a successful example of convergence of ICT in construction machinery industry, in addition to the company's strategies to cope with the Fourth Industrial Revolution.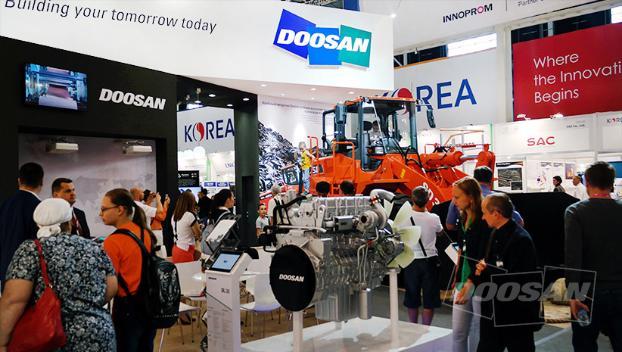 Russian government officials visiting the Doosan Infracore booth at 'INNOPROM 2018'