Doosan announced on June 24 that it participated in the Automatica 2018 held in Munich, Germany, from June 19 to 22. The biennial Automatica is Europe's largest trade fair for smart automation and robotics, featuring the world's latest technologies and products, including industrial and service robots, automation solutions and process innovation. Hosting an event in which 902 companies from 30 countries participated, including Doosan Robotics, the organizer touted this year's event as "an innovative platform that serves as a guide for digital transformation." Jeongwon Park, chairman of Doosan Group, looked around the exhibition venue to keep up with the leading trends of robotics and manufacturing automation technology and to assess global market conditions in order to foster digital innovation. During the tour of the exhibition, Chairman Park was accompanied by a management team, including Hyunsoon Lee, vice chairman and chief technology officer (CTO), Hyungsoo Dong, vice chairman, and Byungseo Lee, senior vice president and CEO of Doosan Robotics. Chairman Park visited every single booth of the world's leading robotics manufacturers to examine the technology and design of the products of the leading companies. He also talked with management officials from other overseas firms and dealers to assess the market, and spent a long time in a booth that simulated a smart factory setting, displaying his keen interest in the area. "Doosan has been consistently implementing multiple Industry 4.0-related initiatives which include our robotics business, and it is high time to step up our efforts," said Chairman Park. "To this end, we need to have our eyes and ears open to the latest technology and digital trends that take place in the industry as we pursue new business opportunities." In the advent of the fourth industrial revolution, Doosan established a new organization headed by a chief digital officer (CDO) at the end of 2017 to deliver digital transformation in each of its business sectors. Recently, Doosan Heavy Industries & Construction signed a partnership agreement with SAP, a global IT firm, and jointly launched a project to develop a digital power plant operations solution, combining its capability and experience in design and manufacturing of power plant equipment with its IT technology capability. Since taking its first steps into the collaborative robotics market last year, Doosan Robotics participated in Automatica for the first time this year and demonstrated its collaborative robots in seven sections—including an automobile composite solutions case, a real-life process application case and a hands-on experience corner—and drew the attention of visitors with its state-of-the-art products and technology. By featuring a real-life red luxury car, the automobile composite solutions case section grabbed the interest of auto industry officials as well as those from other manufacturing industries. In the section, it showcased how a human worker can work hand-in-hand with collaborative robots by having six robots identify the parts that they would need to install, then pick up the parts, hand them to a human worker and work on the assembling job together with the worker. At the Doosan Robotics booth, dealers from around the world, including Germany, Italy, China and Mexico, displayed keen interest in the torque sensor-based controller, ultra-intuitive usability and design of the Doosan robots. Some dealers even expressed interest in selling the products right on the spot and entered into talks. Doosan Robotics delivered a better-than-expected performance at the exhibition by signing partnership agreements with dealers from the region where Germany's auto manufacturers are concentrated. "Even though we are still new to the market, our products have been highly assessed by industrial experts of each country, and there are even sales talks going on with some major dealers that expressed their desire to sell our products," said an official of Doosan Robotics. "Our plan is to expand our dealership network in Europe within this year while promoting the unique strength of Doosan's collaborative robots, with the goal of overseas market expansion."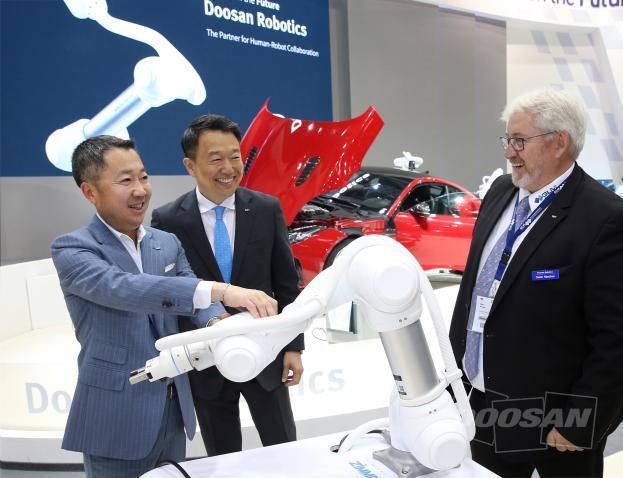 Jeongwon Park, chairman of Doosan Group (left), talks with the CEO of a German robotics dealer (right), at the Doosan Robotics booth during the Automatica 2018 held in Munich, Germany, from June 19 to 22. In the middle is Byungseo Lee, senior vice president and CEO of Doosan Robotics.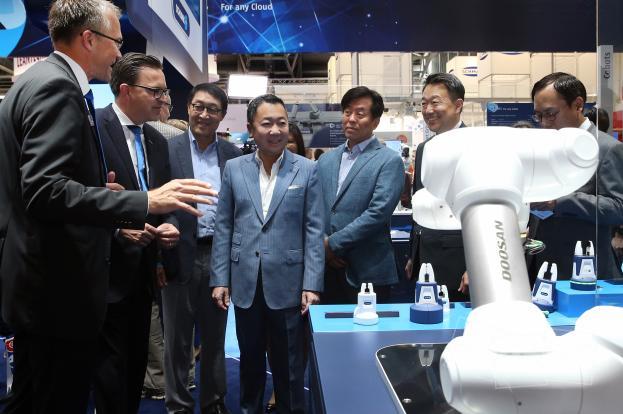 Jeongwon Park, chairman of Doosan Group (middle), talks with the president of Schunk (second from left) the world's largest gripper manufacturer, about Doosan Robotics' collaborative robots at the Schunk booth during his visit to the Automatica 2018 held in Munich, Germany, from June 19 to 22. Some of the companies that make robot-related products, including Schunk, highly assessed the technology and design of Doosan Robotics' products, and used Doosan Robotics' robots to promote their products at their booth.