- Its robots to be exhibited inside Special Pavilion for Fourth Industrial Revolution
- Six collaborative robots to demonstrate auto industry total solutions

Doosan Robotics announced on April 3 that it would attend the 18th Seoul International Manufacturing Technology Show, or SIMTOS 2018, held at KINTEX, Ilsan, South Korea, from April 3 to April 7. Doosan Robotics' booth, the largest booth (494 square meters) installed in the Special Pavilion for the Fourth Industrial Revolution, will feature collaborative robots in four sections: cases in auto industry total solutions, high quality control technology based on torque sensors, easy robot teaching* that maximizes user friendliness and actual use cases. In the main section of auto industry total solutions, six collaborative robots will be working with an operator to check auto parts, inspect surface quality, and deliver and assemble missing parts, among other tasks. Since it entered the collaborative robot market in September, Doosan Robotics has been producing four models that have a working space of up to 1.7 meters and a load capacity** of up to 15 kilograms. The models' industry-leading collision detection capability ensures safe collaboration with humans and high-performance torque sensors mounted on each axis of a collaborative robot enable sensitive work that would normally require human dexterity. "SIMTOS 2018 is a good opportunity for us to let people know collaborative robots can be very useful in various processes in the fourth industrial revolution. Doosan Robotics' collaborative robots will enter the global market in the near future based on our strong competitive edge," said a Doosan Robotics official. Doosan Robotics has been recognized in terms of not only product performance but also good design as the company won the Red Dot Design Award in the product design category for the second year in a row this year in addition to the UX (user experience) category last year. The Red Dot Design Award is one of the world's top three industrial design awards. Hosted by the Korea Machine Tool Manufacturer's Association, SIMTOS is one of the largest robot exhibitions in Korea and among the world's top five manufacturing technology exhibitions. For this year, about 1,100 companies from 30 countries will join the exhibition and there will be a Korea Pavilion, Europe Pavilion and Asia/America Pavilion, along with a Special Pavilion for the Fourth Industrial Revolution. * Robot teaching means giving instructions to a robot. Doosan Robotics has set aside a section at the exhibition in which visitors can experience robot teaching while operating the company's collaborative robot. ** Load capacity refers to a maximum weight a robot can work with and lift.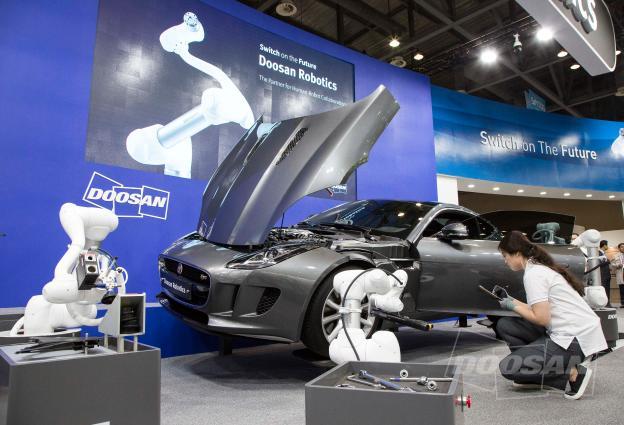 ▲ Doosan Robotics demonstrates how its collaborative robot works at the SIMTOS 2018 held at KINTEX from April 3 to April 7.