- Doosan Infracore acquires No. 1 market share of mid-size excavators at 15.6%
- Company set to increase profitability
- Sales growth momentum secured through WeChat-based digital marketing
In February 2018, Doosan Infracore sold a total of 1,018 excavators in China. Doosan Infracore's market share in February was 10.5%, up by 1.9% over the same month in 2017 and up by 3.2% over the previous month, marking Doosan Infracore's highest market share in the six years since February 2012. Furthermore, Doosan Infracore's excavator sales in January and February jumped by 15.4% over the same period in 2017. The figure is almost double the company's annual rate of global sales growth of 7.9%. Notably, Doosan Infracore's share of the market for mid-size excavators ranging from 20 to 24 tons reached 15.6% in February 2018, enabling it to emerge as the market leader in China in the product sector. Doosan Infracore has increased the sales proportion of its mid-size excavators - a high value-added product group - from 26% in 2017 to 47% in 2018, while continuing to expand its cash sales ratio. As a result, the company has been able to strengthen the foundation of its profitability. Doosan Infracore attributes its quantitative and qualitative growth in China to its efforts to enhance its dealers' competitiveness, launch customized products, and provide 'DoosanCARE' as a differentiated customer service. In order to enter the niche market in China, Doosan Infracore provides customized news on products, information on used vehicles and components, and tips on the management of existing construction equipment through WeChat, China's most popular messaging app, which is currently used by more than one billion people across the country. The number of Doosan Infracore's WeChat followers has tripled to around 60,000 over the past two years, with the running total of Doosan Infracore WeChat hits reaching 1.4 million. Meanwhile, the company's contents on the country's social media have recorded more than 12 million views. The company has sold more than 360 excavators through digital marketing, including WeChat and online media. An executive of Doosan Infracore said, "By conducting digital marketing in the vast Chinese market, we have gained the momentum for significant sales growth and identified new demand that our dealers have not been able to seek out, resulting in actual product sales." Doosan Infracore anticipates that the growth trend of the Chinese market will continue in 2018 due to such factors as continued infrastructure investments, the expansion of mining operations due to rising raw material prices, and rising demand for the replacement of aging equipment. The company plans to further increase its profitability by raising the proportion of its sales of lucrative mid-size products and the ratio of cash sales in the country.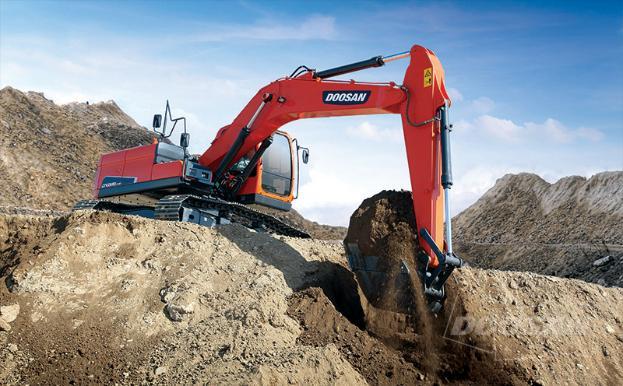 Doosan Infracore's mid-size excavator model, the DX220LC-9C, is currently selling well in the Chinese market.