- DI set to introduce eight models including environmentally-friendly small engine and high-output engine series
- Company to disclose DX12 engine prototype equipped with world's best fuel economy in its class
Doosan Infracore is set to participate in the 2017 Middle East Electricity Exhibition (MEE) held at the Dubai World Trade Centre in Dubai, UAE from February 14 to 16.
The MEE, which marks its 41st anniversary this year, is the largest electrical energy exhibition in the Middle East, attracting around 58,000 visitors from all over the world. Doosan Infracore will participate in the MEE for the fourth time in 2017, with the purpose of publicizing the Doosan brand, introducing Doosan's generator engines, and gathering information on global generator market trends.
The new Doosan Infracore engines to be launched at the MEE 2017 include a compact engine equipped with high-efficiency, eco-friendly cutting-edge technologies; three DP engine series, which are mid- and large-size diesel engines; and the GV222, a lean-burn gas engine boasting dramatically improved fuel efficiency. The company will showcase a total of eight engines at the exhibition.
Doosan Infracore will also reveal its DX12 prototype generator engine at the exhibition. Due to be launched in the second half of this year, the new engine is the result of the company's four-year R&D efforts. DX12, an 11.1-liter mechanical engine with an impressive 15-liter output, boasts the world's best fuel economy and durability in its class.
On the first day of the exhibition (Feb. 14), Doosan Infracore will hold a conference - to be attended by 120 invited guests including dealers from 40 major countries and high-level officials of global generator companies – at which it will introduce its new product lineup and its mid- to long-term vision to grow into a global top engine maker, and enhance its partnerships with the participating companies.
"The MEE has played an important role in the growth of Doosan's generator engine business," said Executive Vice President Joonho Yoo, head of the Engine BG of Doosan Infracore. "We will use this year's exhibition as an opportunity to publicize the Doosan brand and the company's outstanding products throughout the world."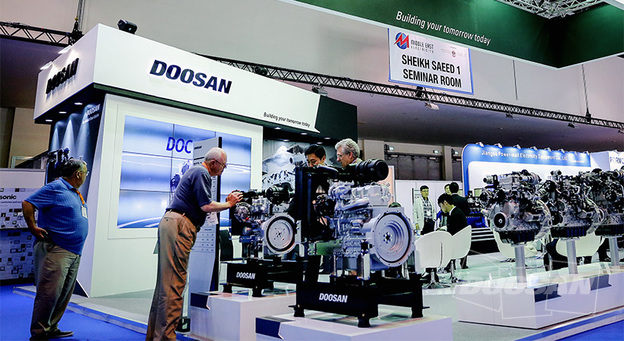 ▲ Customers looking at generator engines at the Doosan Infracore booth, MEE 2016.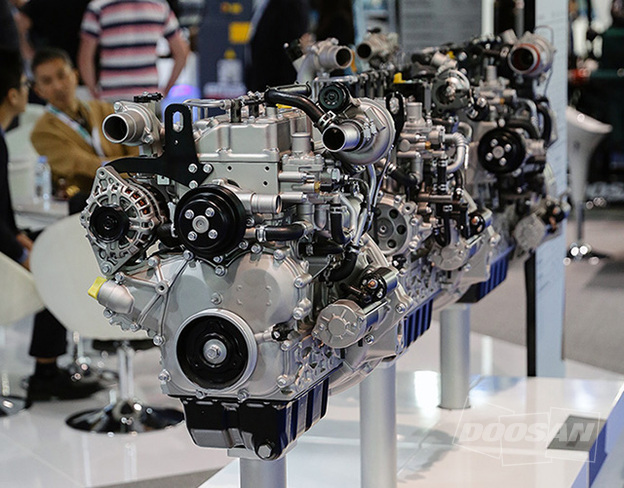 ▲ Doosan Infracore will exhibit a total of eight models of generator engines at the MEE 2017, including a high-efficiency, environmentally-friendly compact engine (See the picture) and the DP series.